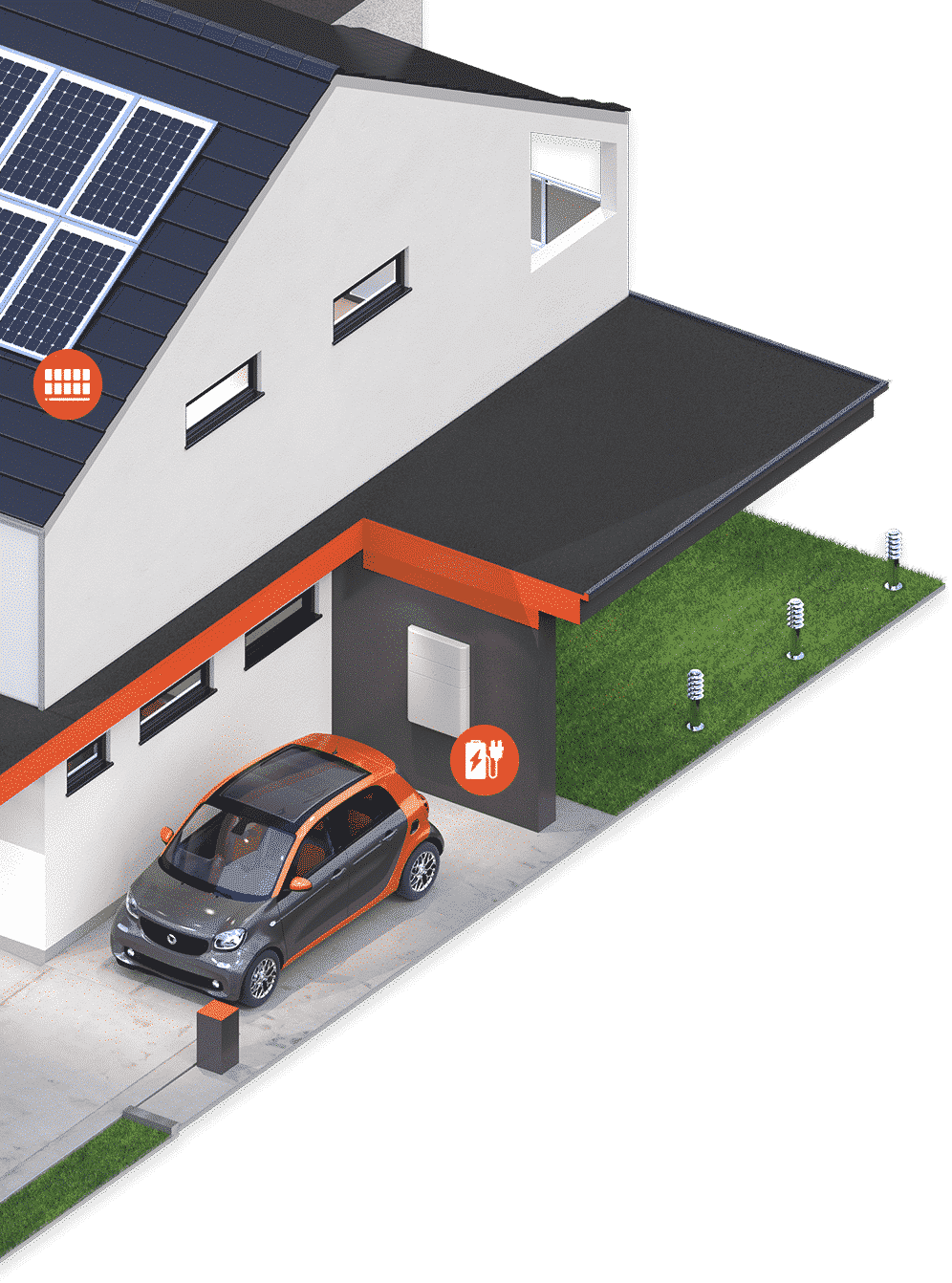 MAKE THE MOST OF YOUR HOME.
WITH PFALZSOLAR.
PHOTOVOLTAICS PAYS OFF!
CALCULATE NOW.
With our solar calculator, you can quickly and easily determine which photovoltaic system perfectly fits your roof and your needs.
BECOME A
ELECTRICITY PRODUCER
PHOTOVOLTAICS PAYS OFF!
In Germany, photovoltaic systems with a total capacity of more than 40 gigawatts produce CO2-neutral solar power. This is theoretically enough to supply more than ten million households with clean energy. More and more homeowners are covering a large part of their electricity needs with a solar power plant on their own roof. Because the investment in photovoltaics pays off in several ways: Plant operators make themselves independent of rising electricity costs and fossil fuels, make an important contribution to environmental protection and, of course, also profit economically.
AFRAID OF RISING LIVING COSTS?
NO, THANKS!
Various studies prove it: The fear of rising living costs is one of the greatest fears among Germans. Electricity costs play a decisive role here – after all, electricity prices have followed a consistent upward trend in recent years. One possible way to counter this trend is to become an electricity producer. With a photovoltaic system on their own roof, homeowners are putting a stop to rising electricity costs.
USE YOUR ELECTRICITY INTELLIGENTLY
The sun shines when most people are not at home and therefore do not consume electricity. But thanks to intelligent smart home solutions and modern storage technologies, operators of photovoltaic systems can optimize their own consumption of solar power and use as much of the energy they produce as possible. By the way, kilowatt hours not consumed are not lost: they are fed into the public grid and remunerated according to the Renewable Energy Law (EEG).
YOUR ADVANTAGES AT PFALZSOLAR
We believe that our customers are pushing forward the energy transition.
And our custormers trust in PFALZSOLAR – for a good reason:
WE DELIVER QUALITY TO ENERGY SUPPLIER STANDARDS
Since 2003 we have been planning, building and operating photovoltaic plants of all sizes – efficiently and profitably. As a company of the Pfalzwerke group, we place particularly high demands on ourselves. Because: The quality standards of energy supply companies are our benchmark.
WE ARE PART OF THE PFALZWERKE GROUP
The Pfalzwerke is the largest energy supplier in the Palatinate and Saarpfalz district and supplies 400,000 private customers with electricity. Our affiliation with the Pfalzwerke Group means for you: Reliability and economic security – in the long term.
WE RELY ON CERTIFIED COMPONENTS
We work exclusively with manufacturers who value the quality and durability of their products as much as we do. Only in this way can we ensure that you make the most of your photovoltaic system in the long term: Environmentally friendly, low-cost solar power.
FREE E-BOOK
What does photovoltaics cost and what can you actually save? And is an electricity storage system worthwhile? Our free e-book answers these questions with practical and simple calculation examples.
This e-book is exactly the right thing for everyone who is thinking about buying a photovoltaic system or simply wants to find out more about the subject.(only available in German)
THIS COULD ALSO BE INTERESTING FOR YOU