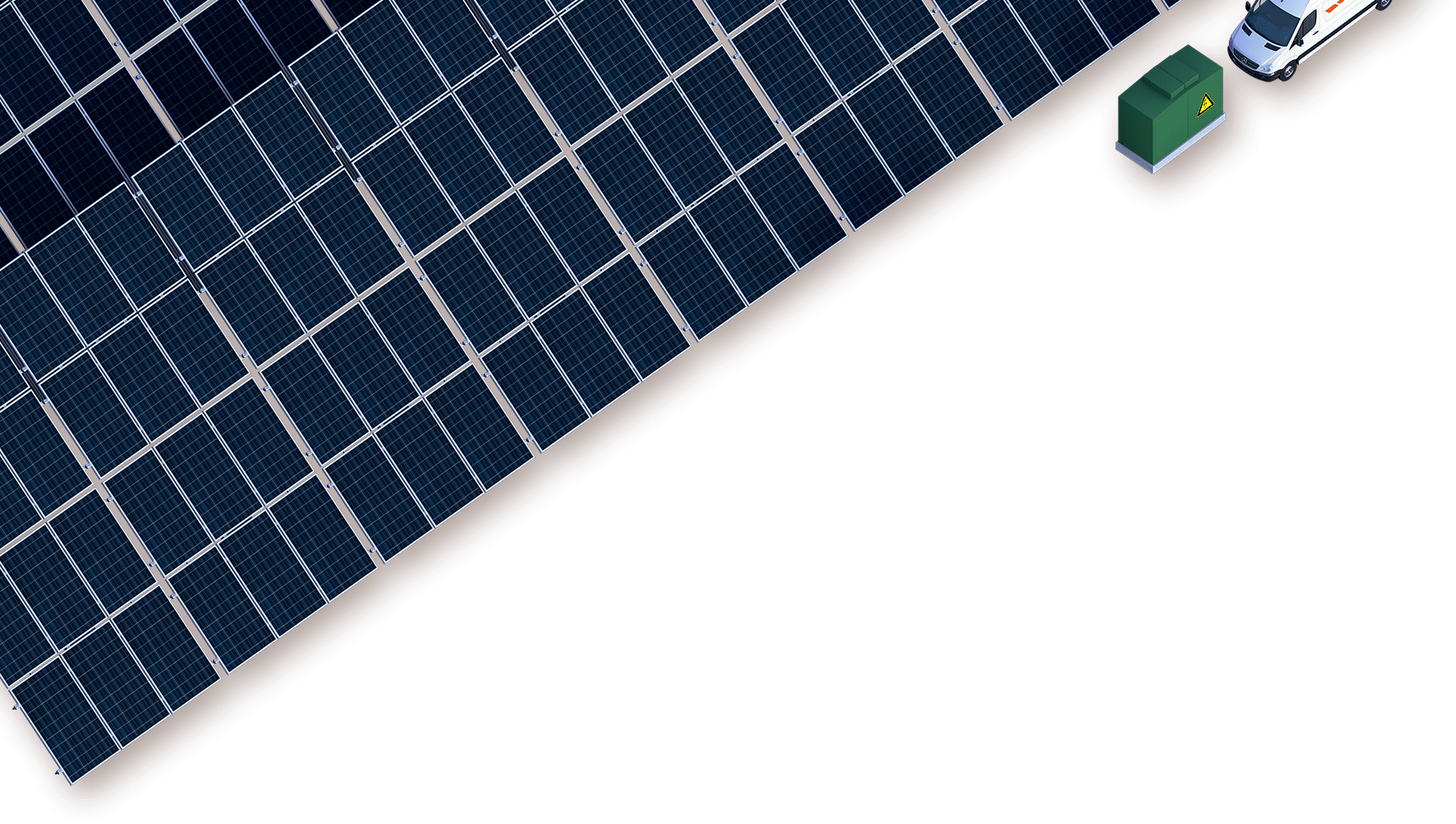 BECAUSE YOU DESERVE QUALITY TO
ENERGY SUPPLIER STANDARDS.
AN INVESTMENT IN PHOTOVOLTAICS
PAYS OFF IN THE LONG TERM
– and not only economically. As the operator of a PV system, you make an important contribution to climate protection, no matter whether it is a solar power plant on the roof of your commercial property or a solar park. You should not compromise on quality so that you can benefit from your investment to the maximum. Your photovoltaic system can provide you with CO2-neutral solar electricity for 20 years and longer if it is optimally planned, realised and operated. With PFALZSOLAR, you have an experienced team of solar professionals at your side for your project. We have been developing, building and operating photovoltaic systems of every size since 2003.
Our experts from the fields of project development, EPC and O&M advise you at eye level and have one thing in mind: The long-term success of your project. As part of the Pfalzwerke Group, the largest energy supplier in the Pfalz and Saarpfalz districts, we have a strong partner behind us and together stand for innovation, reliability and sustainable growth. Not least for this reason, companies, municipalities, institutional investors and private customers trust us when it comes to the realisation of their photovoltaic systems. They deserve quality according to energy supplier standards – and that's what we deliver.
OUR SERVICES FOR INVESTORS,
COMPANIES, ENERGY SUPPLIERS & COMMUNITIES
PROJECT DEVELOPMENT
Site identification, approval process and grid connection
There is a lot to do before a solar power plant feeds the first kilowatt hour of environmentally friendly electricity into the grid. This is why our project teams are made up of experienced technical, commercial and legal specialists who work together for the success of our clients.
Within the scope of project development, we accompany the entire approval process, conclude lease agreements for all required land and obtain the feed-in approval of the responsible energy supplier. The basis for this is the optimal technical planning of a solar park, taking into account the general conditions, such as terrain and grid connection capacity.
A decisive factor for the later distribution and financing of solar power plants is also the corporate structure: If required, we develop PV projects directly within a special purpose vehicle (SPV).
CONSTRUCTION
We not only build projects that we have developed ourselves, but also act as EPC on behalf of clients, partners and investors.
This means: We provide all the services required for the turnkey construction of a solar power plant – no matter whether ground-mounted or on commercial and industrial roofs:
The final engineering of the plant, the procurement of all necessary components and services and of course the construction itself. Particularly in component procurement, our long-standing relationships with all well-known manufacturers and the economies of scale that can be achieved through large purchase quantities are a great advantage for our customers.
When it comes to construction, we rely entirely on our experience and know-how: with a competent project manager on site, we ensure that projects are completed in time. In all construction phases, we place the highest value on high-quality execution – from the erection of the mounting system to the grid connection.
FINANCING
The financing of a large-scale PV project is a decisive success factor.
Our photovoltaic experts have extensive experience in project financing and have not only concluded numerous loan agreements in the past, but have also successfully supported the associated projects up to the disbursement of the loans. We continue to contribute our expertise in the financing of PV projects to the projects of our investors today and in the future.
OPERATIONS & MAINTENANCE
Each PFALZSOLAR solar power plant is the result of our many years of expertise,
our know-how and our passion for clean energy. For this reason we are not only the reliable partner of our customers until the commissioning of a plant, but also afterwards. Because: A professional operational management is a decisive success factor when it comes to achieving maximum yields in the long term.
PFALZSOLAR
INTERNATIONAL
… IN THE U.S.
In September 2016, we established a 100% subsidiary in the USA. PFALZSOLAR Inc. is headquartered in Atlanta, Georgia and specializes in the development of large-scale projects.
After China, the USA is one of the countries with the highest growth rates in photovoltaics. In 2018, systems with a total capacity of 11.7 gigawatts were newly installed in the USA.
… IN EUROPE
For some years now, we have been active not only throughout Germany, but also beyond its borders. In the Netherlands, for example, we develop and build large-scale PV projects on roofs, open spaces and former landfills.
In the UK, we have implemented projects with a volume of 50 megawatts in recent years. We are also active in Spain and are focusing on other European markets. Of course, we are also available to you in these countries as an O&M service provider.
Do you have any questions about our international activities or would you like to talk to us about other exciting PV markets? Then we look forward to your message!
In the UK, we have implemented projects with a volume of 50 megawatts in recent years. We are also active in Spain and are focusing on other European markets. Of course, we are also available to you in these countries as an O&M service provider.
Do you have any questions about our international activities or would you like to talk to us about other exciting PV markets? Then we look forward to your message!

GET IN TOUCH
YOU MAY ALSO BE INTERESTED IN THESE TOPICS