MEET & GREET IN PLYMOUTH, GROSSBRITANNIEN: PFALZSOLAR BEGRÜSST GEMEINDERAT UND ANWOHNER AUF DER BAUSTELLE DES SOLARPARKS ERNESETTLE
Ludwigshafen , 19.02.16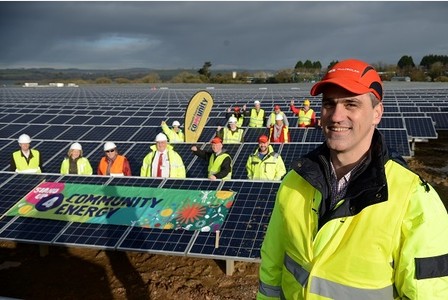 At the beginning of the year, Pfalzsolar started with the construction of a large scale solar farm in Plymouth. The new project has an overall capacity of 4.1 Megawatts and shall be already finished at the end of March.
Yesterday, local councillors, residents and representatives from Plymouth Energy Community (PEC) donned their wellies and braved the mud to meet with contractors at the Ernesettle site to review project progress. The first panels were installed at the 7.5 hectare farm, which will generate enough power for more than 1,000 homes, on Monday – with a view to completing works next month.
Cllr Chris Penberthy, cabinet member for housing and cooperatives, said: "We are really pleased to see this community project progressing well on schedule regardless of the weather and it is with a huge sense of pride that I stand next to these solar panels.
"They will generate enough clean energy to power the equivalent of 1000 homes as well providing benefit to the people Plymouth through Four Greens Community Trust (FGCT) and PEC."
The project was temporarily shelved in November last year after the Government axed green tax relief – which prompted Plymouth City Council (PCC) to pull the plug on a £5million loan to kickstart the scheme. But FGCT, who boast more than 160 local members and an elected board of stakeholders, say the super solar farm will create jobs and improve services in Ernesettle, Whitleigh, Honicknowle and Manadon. Energy generated by the solar panels could be sold to the national grid and the surplus income generated could be used to fund the activities of PEC and FGCT, benefitting other projects in Ernesettle. It is hoped the solar installation will be part-funded by a community share offer later in the year, allowing local residents to invest their money and earn a fair rate of return.
A PEC spokesperson added: "The contractors, Pfalzsolar, have battled through the mud and raid to get everything in place on time. They have been fantastic."
"We are hoping to arrange a community show, open to all members of the public, at the end of April once the farm is complete."
Source and more information: Plymouth Herald.